Tired of working on yourself?
Is personal growth taking you in circles?
Wish you were finally done with self-improvement?
Long to just enjoy your life and experience true freedom?

If yes, then welcome!
Hi, my name is Margot Ridler. I worked on myself nonstop for many years only to find out that the freedom, aliveness and joy I was seeking were already with me. I was looking in all the wrong places. What I sought I already possessed.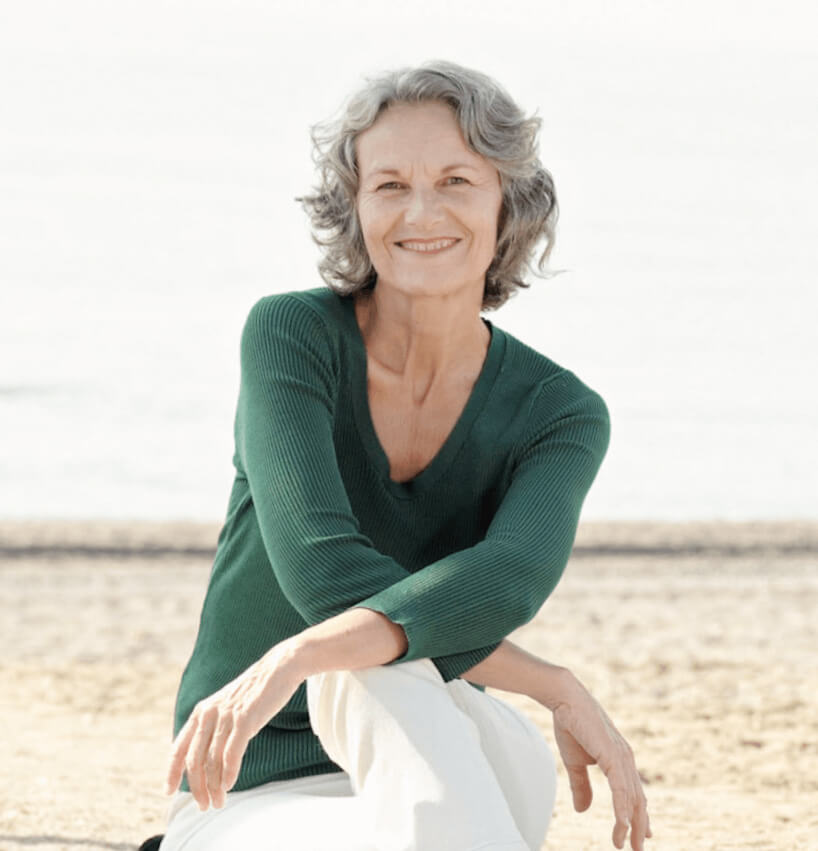 I was born and raised in Austria, and have lived in the United States since 1982. In the late 1980's I began to offer healing work to children, helping them clear mental stresses, release pent-up emotions, and overcome learning difficulties with Brain Gym®, a highly effective brain-balancing system. In the process I discovered that for the most part children don't have problems. They display challenging behaviors to let their parents know issues exist in the family that need to be addressed. This is why I retrained and in the late 1990s began to offer Bert Hellinger's trans-generational Family Constellation Work. Thanks to these profoundly healing family constellation setups I was able to assist my clients to swiftly release unresolved trauma as well as restrictive inherited programming and conditioning. Back then, my intent with my work was to assist people in improving their personal self so they could live happier and more fulfilling lives. I offered Family Constellation Workshops in the Los Angeles and Milwaukee area.


How Margot Works Today

In 2006, I was thrust into a spiritual awakening process that taught me happiness cannot be found by working on your personal self. That's because happiness isn't lost. Happiness is intrinsic to all human beings. It's part of your true nature - the real YOU! With this realization, my work focuses exclusively now on helping you release, surrender, and let go of ingrained patterns, programming, and conditioning so that the real YOU can come to the foreground. Your true nature is always present. It's just covered up to varying degrees by programming and conditioning. It merely has to be set free!
I offer theme-specific programs to quickly address particular issues, as well as 21 or 42 or 90 programs that are tailored to each person's specific needs. Read the About Me page to learn a little about my history and what drives me in my work. To find out the basic premise of my work please visit the Family Constellations page. The Inner Constellations page and the How Margot's Work Differs page will help you grasp more clearly how my work is different from traditional Family Constellation Work. The 5 Levels of Programming page will aid you in understanding the spiritual dimensions involved in my work and how you will access them. In the Frequently Asked Questions page and the Testimonials page you'll discover additional details. To learn about my professional background please visit the Credentials page. Feel free to contact me with questions as you delve into the rich content of my website.
I am also in the process of offering a truly one-of-a-kind professional trainings for therapists who want to include the spiritually awake as well as the trans-generational perspective to their work to facilitate for their clients a much quicker and more in-depth therapeutic healing outcome. If you are a therapist and are interested, please contact me through the Contact page. Additionally, I am offering the membership-based unBook Live online community platform where I am available daily to answer questions, provide inspiration, and present guidance on how to live an internally free and happy life based on my unbook #1 BEYOND SELF-IMPROVEMENT - Go After True Freedom: Life Without Suffering Is Possible and my unbook #2 TRULY FREE AT LAST - Spiritual Enlightenment: Explained Like Never Before. You will find details below.
What is the uniqueness of my approach?
I see your struggles as your extraordinary opportunity to discover lasting peace and happiness. The idea seems odd that your challenges could hold the key to find true and lasting happiness. But from personal experience I can say that this is true. Your difficulties are a treasure trove of opportunities. They can help you reach a joy and aliveness most of people have no idea can be lived in this world.
What past clients have said:
"

I desperately needed help with a feeling of anger I was no longer able to control. Six months later, I can hardly remember how it felt being angry all the time. I can finally feel free and peaceful. 

"

Laissa C.

Brazil

"

The difference I feel since working with Margot is profound. Things that used to trigger me, don't anymore. I feel a sense of peace now that I have never had before. 

"

Amanda G.

USA

"

Margot's work is magnificent, transformative and profound. I learned working with Margot that the untrue stories we tell ourselves are at the core of our unhappiness.

"

Gary L.

USA
Work with Margot on a Specific Issue:
Purchase an Online Product:

To bring about real change, you must surrender how you are linked to the past. Only then can you birth life experiences that are truly worthwhile and thus far unknown in our world.
Explore Margot's One-of-a-Kind

Visual unBook Series
In my unbook #1 BEYOND SELF-IMPROVEMENT - Go After True Freedom: Life Without Suffering Is Possible I share with you the basics of your human construction, the reason you struggle in your life, and how you can access the real YOU and your intrinsic happiness. I designed visuals that are truly unique that will help you understand this difficult to grasp subject matter. My unbook #2 TRULY FREE AT LAST - Spiritual Enlightenment: Explained Like Never Before is a continuation of unbook #1. In it, I chronicled my entire spiritual awakening process. I share with you, again with visuals, what exactly spiritual enlightenment is, and why it's the ultimate achievement a human being can attain.
As my gift, you are welcome to read from my unBook #1 the sections The Real YOU and Three Kinds of Knowing. Simply click below to access the free pages.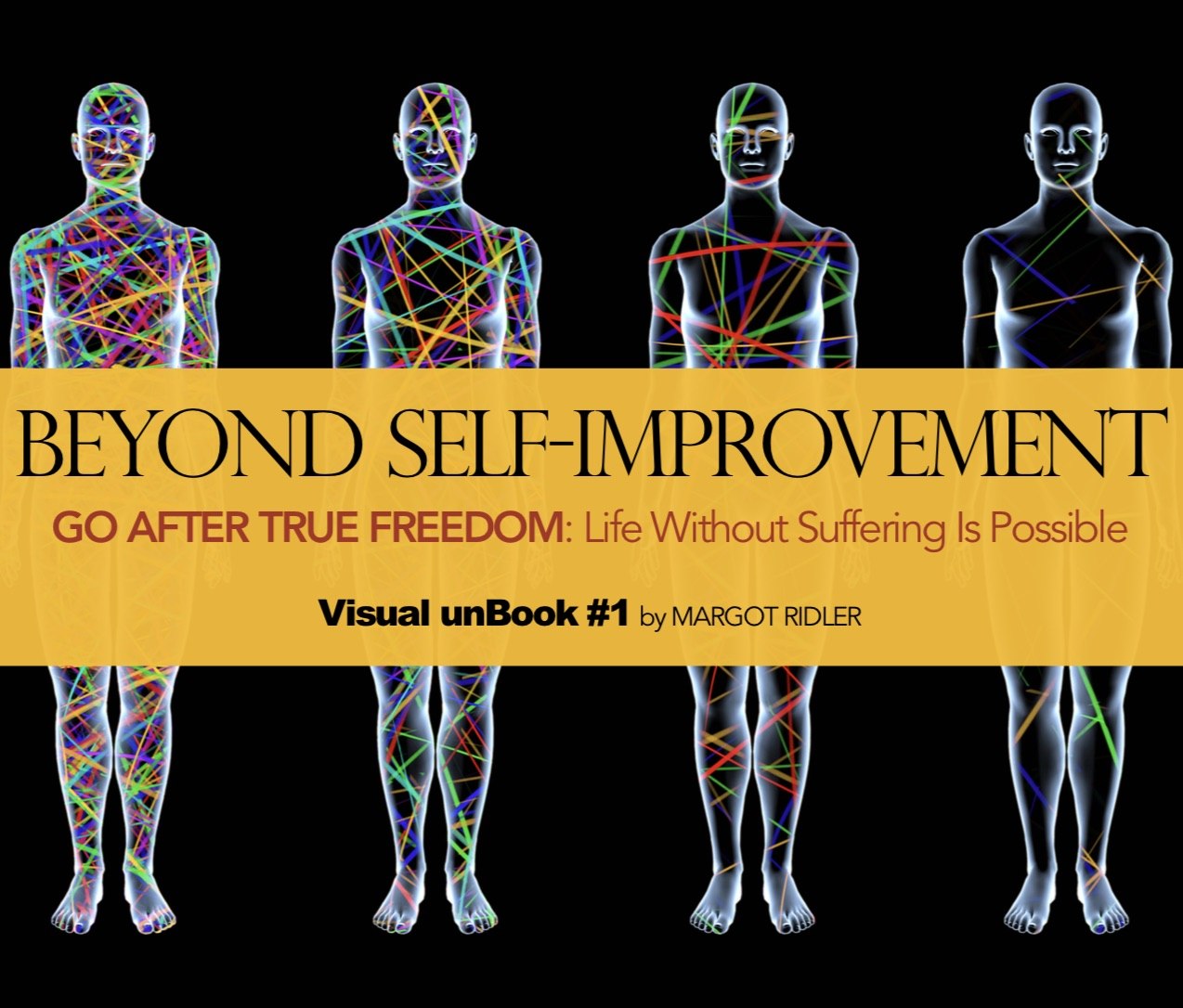 Robert F: The unbook is awesome. My suggestion is to read it slowly and savor it. Give it ample time to process and assimilate. Pay attention to the illustrations. They are powerful. And then read it again. Thanks so much for this experience Margot!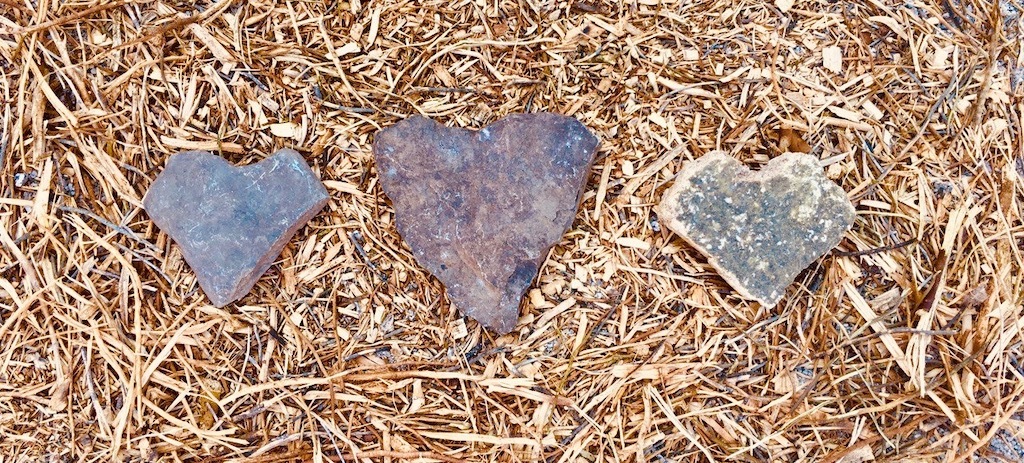 INSPIRED BY A HEART
Living in the flow of life since 2006, I've been spontaneously finding heart rocks, heart shells, heart leaves, and even metal, plastic, and food heart pieces. Join my Inspired By A Heart adventure channel where I'll regularly post photos and videos of hearts I find throughout my day. With the Do You See The Heart? videos you get to experience this flow of spontaneity of finding heart in all kinds of places. On that channel you'll also find out when I have one of my handcrafted ceramic heart bowls or framed hearts available for sale.
Mailing List Registration
Sign up for my Mailing List
Receive updates, workshop announcements and info on new Online Membership Support entries.
CLICK HERE