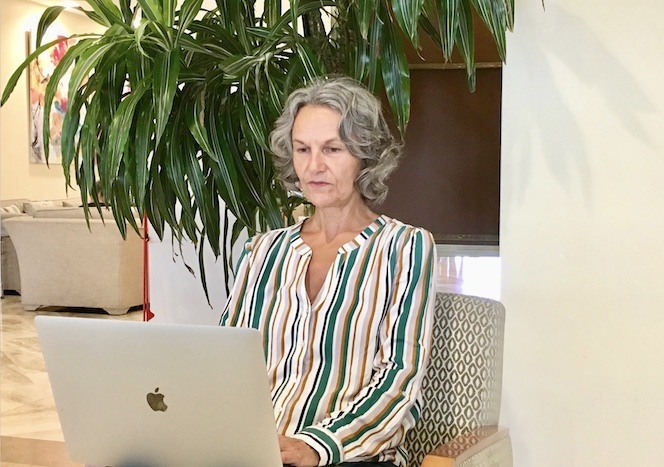 NEW! One-Year Intensive Training
Margot's Professional Training
Margot's professional training for psychotherapists and professionals in the Healing Arts field is truly one-of-a-kind. Margot combines the Orders of Love principles of Bert Hellinger's trans-generational Family Constellation Work with the principles she discovered in her spiritual and worldly awakening process, along with the understanding she gained from the spiritual enlightenment event in 2009.
General Info on the training
My intent is to share what I know in a way that my trainees will be able to implement immediately what they learn in their weekly training sessions. I know of trainings where trainees have to wait until the training is finished until they are allowed to use what they've learned. This is not what I want to have occur with what I teach. Each lesson/teaching that I offer in each module can be right away implement with clients.
I feel fortunate I learned Bert Hellinger's original way of working with family constellations back in the 1990s. The principles he called Orders of Love provided me with a solid base that allowed me to eventually expand my work to devise my own process of Inner Constellations I now facilitate. I'm not sure to what degree these early principles are taught nowadays. However, to me, without understanding these very core principles it will be very hard to offer Family Constellation work effectively.
In addition to learning the basic trans-generational principles according to Hellinger's original Family Constellations work, I also incorporate the understanding I gained from my spiritual and worldly awakening journey and the clear-seeing (spiritual enlightenment event) that showed me what true freedom is all about. My goal with my training is to teach all the essential principles of Constellation Work as well as Spiritual Awakening so that my trainees will feel comfortable and assured when a client presents an issue in a one-on-one setting. I want my trainees to be able to instantly apply the 'trans-generational' as well as 'spiritually awake' viewpoint. This way, my trainees will have an enormously expanded ability to help their clients.
One-Year Commitment: Four Modules
MODULE 1: Months One Two Three
Learn the basics of the trans-generational Orders of Love principles according to Bert Hellinger's original Family Constellations along with the understanding I gained from my spiritual awakening journey. You will learn truly unique views, insights, and understandings that are not taught by anyone else that offers family constellation work training. Each weekly teaching will touch upon a different subject, which you then can apply directly in your work with your clients.
MODULE 2**: Months Four Five Six
Making use of video recordings of Bert Hellinger's family constellation setups, we'll delve into the original work Bert Hellinger offered in the 1990s he called Family Constellations, as well as his later works, which he respectively called Movement of the Soul and Movement of the Spirit. We will watch those constellation setups together during our video calls so that you can ask me questions and I can make comments and help you understand why Hellinger did what he did so that you'll get a good understanding of the constellation setup processes. You will learn how to do these processes internally with your clients that Hellinger does externally in a group with people. Please look for this ** mark below. I'll explain why I'm not offering meeting in person for group constellations setups.
MODULE 3: Months Seven Eight Nine
We will go over practical case studies. I'll share with you the internal processes I undergo when a person comes to me with an issue. What are the thoughts I immediately have in terms of looking at an issue from a trans-generational perspective? What is my internal process that lets me make the first conclusions that will generate the candle ritual and eventually the work I will do in my one-on-one video call sessions? I'll bring case studies from my client base to discuss my internal processes. Trainees can also bring their case studies from their practice. Module 3 will not focus on me helping you with your clients to resolve their issues. Instead, I'll train you in the processes involved when your clients bring their issues to you so you'll be comfortable determining the proper actions to take.
MODULE 4: Months Ten Eleven Twelve
You will learn the Inner Constellation work I offer now. You will need to have gained a basic knowledge of family constellation work and the spiritual awakening principles to understand the inner processes I engage in when I work with my clients one on one. You will have gained this basic knowledge in Modules 1 - 3. Every trainee who wants to have an inner constellation setup to resolve an issue will have a chance to do this during this module. We will do this as a group so that everyone can directly observe the process involved. I will ask my trainees to write down the process they would follow if this were their client. After I've facilitated each constellation, we'll discuss how each trainee would have gone about the process and we'll compare the various scenarios. Module 4 will provide a lot of practical experience so that by the end of Module 4 you'll feel comfortable in your own practice facilitating constellation work with your clients.
** Initially, I set up Module 2 as an in-person group constellation module where I wanted us to meet regularly for family constellation group work during this three-month period. However, because my trainees live in different parts of the US as well as other parts of the world this setup wasn't feasible. It would have required too much traveling, taking everyone away from work, as well as accruing lots of extra expenses for traveling and accommodations. Air traveling is also getting increasingly stressful and challenging. Additional unforeseen disruptions such as new lockdowns or travel bans may resurface, which might make traveling impossible again. This is why I decided to make use in Module 2 of my video library. You will get a first-hand view and understanding of how Hellinger facilitated family constellations and learn the constellation process in that way. Since my main objective with this professional training is to teach you how to be really effective with your clients one-on-one using the Inner Constellation processes I developed, it won't be necessary to meet in a group setting in person. I can teach you everything you need to know via our online video calls. Sure, participating in in-person constellation group work is powerful. I highly recommend you have at least get one experience with it. Once you learn what I will teach you, you can participate in any constellation group work, and by observing the constellation setup and the facilitator, you will know what the constellation process is all about. You will know why the facilitator does what he/she does because you will know the underlying principles and will understand the process involved that is guiding the constellation participants towards a healing movement.
Learning how to facilitate group constellations involves a lot more training than what I'm currently offering. You will need to learn how to hold the entire field of all workshop participants, along with their family and ancestor's fields. You will also have to learn how to deal with the persons who represent family members in constellation setups and how to navigate all these energetic responsibilities. That really can't be taught online. Additionally, my teacher, Heinz Stark, was greatly opposed to the one-weekend-a-month one-year long trainings that are offered by various facilitators. Heinz said you can't get an in-depth training that way. The minimum training he was willing to offer, which I organized for him in the US, was a two-year commitment of six week long training sessions of in-person group work. I agree with him. That is the kind of training I would offer if I would ever teach how to facilitate group constellations.
Meeting Times and Training Platform
The online training video calls will be scheduled for two hours each week for three weeks in a row with the fourth week off as a break for study and integration.
A private and secure membership platform will house all training video recordings. A private and secure chat feature will be available so everyone will be able to easily communicate with each other via group as well as private chats. A private and secure Q&A forum page will allow all trainees to post questions, which I will answer on a daily basis. An additional live Q&A call will be scheduled each week as needed so that I can address questions in person. My intent with the training is that I want to be available for questions as much as possible. During each week as questions arise from the weekly video training calls or from your work with your clients, I want to be available to offer guidance and counsel. With my training I want to basically provide the support and assistance I wish I had when I learned constellation work or when I went through my spiritual awakening process.
The fee for the one-year professional training is US $4,500. Please use the Contact Form to let me know of your interest so that I can place you on a waiting list. The next training will be offered in fall 2023.
There are two prerequisites to participate in the one-year professional training. First, you must be a psychotherapist or some other qualified professional in the healing arts arena. Second, you must have been a client of mine. It is important that you know how I work so that you can determine if what I know and how I conduct my work is in alignment with what you want to learn. Equally, having facilitated healing work for you I will know if my work is a good fit for you and if I would enjoy teaching you what I know.
If you have not worked with me before and are interested in participating in my professional training, please follow the steps of how to book the 21-Day Quick Release Program to resolve an issue in your life. Click here to access that page.
If you have been a client in the past and want to participate in the training you can email me directly as you already have my email address. Or you can use the Contact Form to reach out by clicking here.
Thank you for your interest in my professional one-year intensive training.